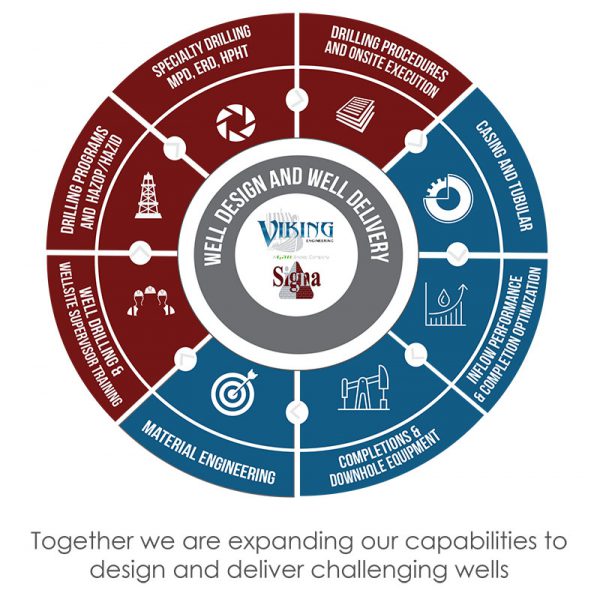 Viking Engineering and Signa Engineering announce that they have signed a strategic alliance to deliver a complete package of solutions for both drilling and completion design and operations.  The alliance, with its combined 45 years of experience, as established companies, will deliver to the industry more robust and safer well drilling and completion designs, the required integrity and performance, and a capital efficient and integrated approach to well and completion construction.
Viking's vast experience in tubular design and certifications along with its well integrity solutions including their proprietary failure investigation database and software, have provided a distinctive offering to the HPHT, deep-water, and corrosive environment markets since 2001.  Signa Engineering has pioneered and applied many of the managed pressure drilling and extended reach drilling techniques for complex wells, globally as well as maintaining an extensive database of Wellsite Advisors.
Rick Stone, Signa Engineering Chairman/CEO stated, "Signa and Viking are two respected engineering companies with synergistic offerings.  We are pleased to be a part of a new technical and service alliance between the two companies.  This alliance will enhance service value to clients and will improve the business footprint of each company globally."
Roberto Peña, Viking Engineering's Director of International Projects said, "We are very excited about the alliance.  As the complexity of accessing and producing hydrocarbons continues to increase over time, this sets the stage to combine the services of two of the premier oil and gas engineering companies to help operators design and deliver challenging wells.  In addition, Viking provides specialized services such as quality assurance and production optimization."
Viking is a subsidiary of GATE Energy, an industry leader in subsea engineering, flow assurance, commissioning, and project management.  Together with Signa, the alliance can offer a wide range of technical expertise to help operators ensure systems integrity, increase capital efficiency, and navigate risk without compromising safety.
"Integrating 2 Premier Companies for Optimal Well Delivery Solutions"
For more information on Viking Engineering, visit www.vikingeng.net
For more information on Signa Engineering, visit www.signa.net